Title:
Tom Thumb
Dates:
25 – 27 January 2018
Written By:
Shirley Hunt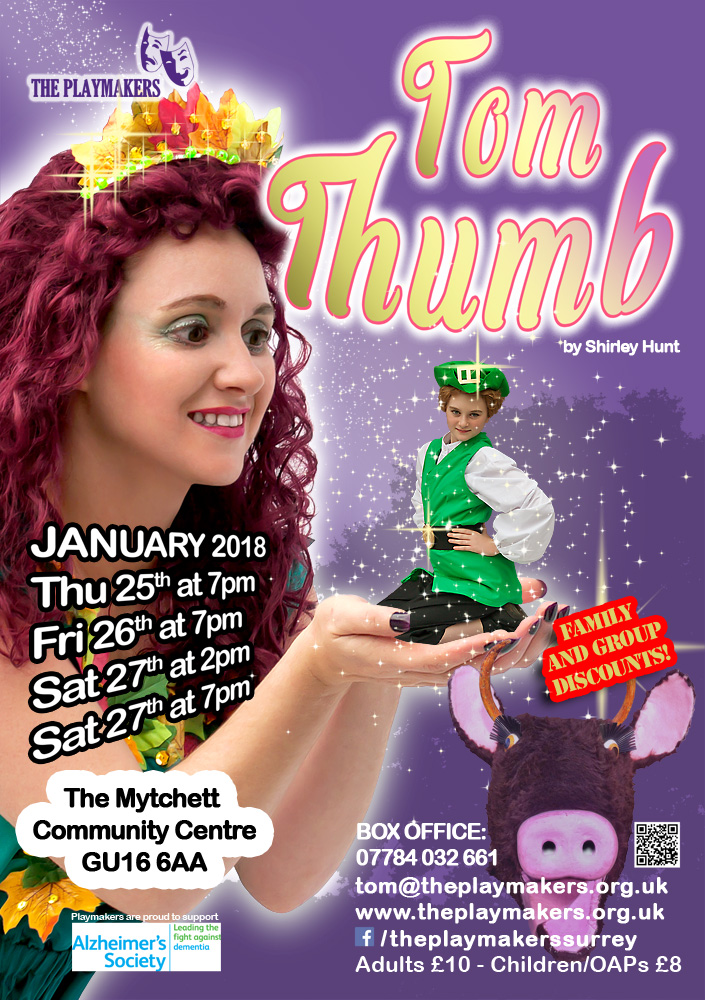 Synopsis
Come into a world with someone so small, you may step on him. Tom Thumb the Pantomime. A theatrical performance that will have you falling out of your seats.
Tom Thumb comes into the lives of poor Anna and Jonathan bringing them hope and joy. He falls into the hands of bad guys who want to use him for his size. What can he do? Can the Fairy Queen help? Who are his real friends? Fun, adventure and magical happenings are what to expect in this classic tale.
Cast
TOM THUMB – Leah Merrick
DICK – Tony Bowman
JONATHAN – Colin Raggett
FAIRY QUEEN – Natasha Ashdowne
WOODY – Tom Bevell
DAME CHOPPALOT – Paul Foster
ANNA – Jo Roome
PANTOMIME COW – Annabel Brash & Fiona Wassan
CONFUSCIOUS – Dave Killick
MRS EGG – Anita Weare
JACOB – Stephen Turner
IVOR – Nick Daborn
BAKER 1 – Sue Barnett
BAKER 2 – Kim Osborne
YAWNING MAN – Sue Barnett
SOLDIER 1 – Clare Ferguson
SOLDIER 2 – Stuart Davis
Chorus
Nicky Hayes
Angela Merrick
Emma Young
Tony Bowman
Dave Killick
Anita Weare
Clare Ferguson
Sue Barnett
Young Playmakers
TOY SOLDIER A – Emily Roome
TOY SOLDIER B – Imogen Day
SHERIFF– Logan Ashdowne
COWGIRL– Lily Rowlands
BUZZ – Robbie Hayes
JOAN – Anastasia Ashdowne
HENRY – Oliver Asprey
BETTY – Ellie Ferguson
BEATRICE – Lily Wall
ARTHUR – Logan Ashdowne
ALISON – Berry Weare