Title:
The Monkey Puzzle
Dates:
26 – 28 January 2017
Written By:
Enid Hughes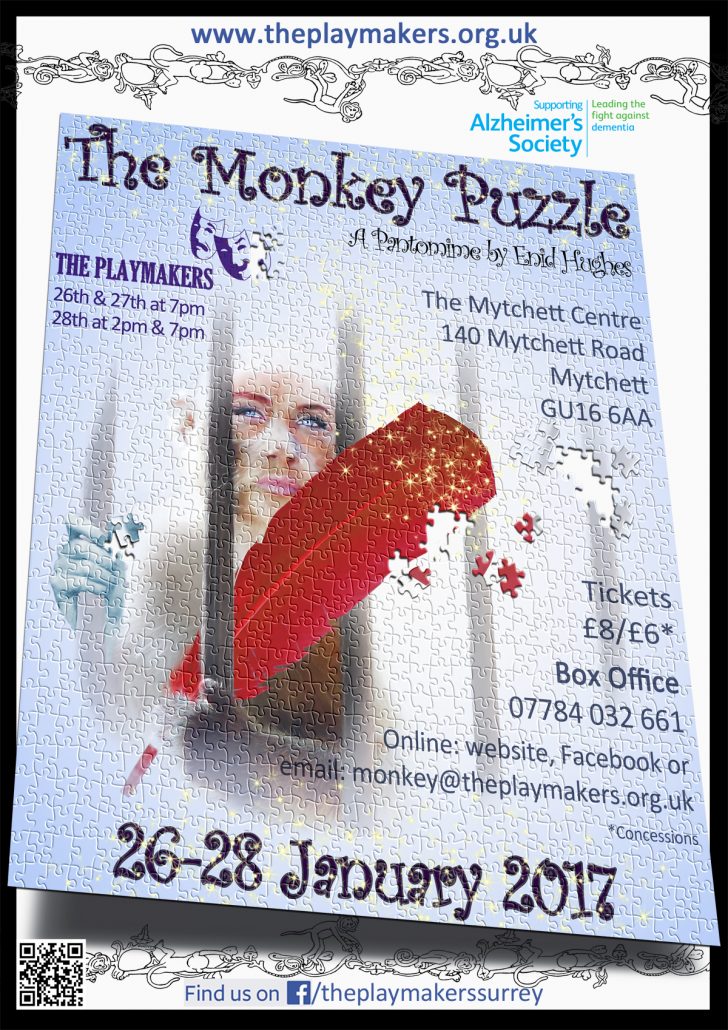 Synopsis
The handsome Prince James is coming of age and faces the prospect of an unhappy marriage to the ghastly and lascivious Princess Berenice of Bolonia. Understanding his dilemma, the Fairy Luscinia has other ideas involving a match-making red feather. Meanwhile, Mary Ann, a downtrodden orphan is up at the crack of dawn slaving after the evil Ma Jenkins and her henchmen. Framed for the theft of the Princes' Royal Star, she is thrown into jail.
The Princess Berenice arrives and a case of mistaken identity follows. Prince James, determined to catch the thieves, disguises himself as a copper and sets out to apprehend them, with a new pet monkey in tow. But Ma Jenkins and her henchmen have other ideas and plot to trap the monkey – nabbing virtually the entire cast in the process.
But like all good tales, the baddies are thwarted, the Prince and Princess get married (though not to each other) and the monkey gets… Well, you'll just have to come find out.
Cast
Monkey – Robbie Hayes
Prince James – Tom Bevell
Mary Anne – Vickie Langdown
Ma Jenkins – Sue Baxter
Bludgen – Nick Daborn
Snudge – Dave Killick
PC Percy Verance – Colin Raggett
Princess Berenice of Bolonia – Annabel Brash
Queen Caroline – Jo Roome
Chamberlain – Stephen Turner
Fairy Luscinia – Anita Weare
Inspector Hound – Martin Gohrey
Hattie – Eli Ferguson
Ada – Lily Wall
Servant – Oliver Asprey
Chorus
Derek King and Scobie – Sand Dancers
Nicky Hayes – Gorilla and Madame Monkey
Shirley Hunt, Clare Ferguson and Jessica Pender
Young Playmakers
Robbie Hayes
Lily Wall
Oliver Asprey
Imogen Day
Emily Roome
Ellena Ferguson
Berry Weare
Leah Merrick
Crew
Director and Producer – Tony Bowman
Young Playmakers Director – Laureen Rees
Musical Director – Shirley Hunt
Choreography – Annabel Brash, Louise Ellis, Emily Roome
Stage Manager – Dave Craven
Set Design and Build – John Pilworth, Jon Tebb, Helena Higgitt
Wardrobe – Shirley Hunt
Makeup and Wigs – Valerie Smythe, Saundra Evans, Janet Bartrop
Props – Lynn Price, Gillian Luck
Runner – Lynn PrIce
Prompt – Scobie
Front Of House – Robena Tasker, Rene Glasscock, Helena Higgitt, Dawn Rowlands, Sian Holland
Stage Crew – Jon Tebb, Jon Pilworth, Derek King, Chris Wassan, Paul Foster
Box Office – Fiona Wassan
Poster and Programme Design – Tony Bowman
Sound and Lighting – Harry Morgan, Tom Bridges