Title:
Twist! A Playmakers Musical
Dates:
21 – 23 January 2016
Written By:
Shirley Hunt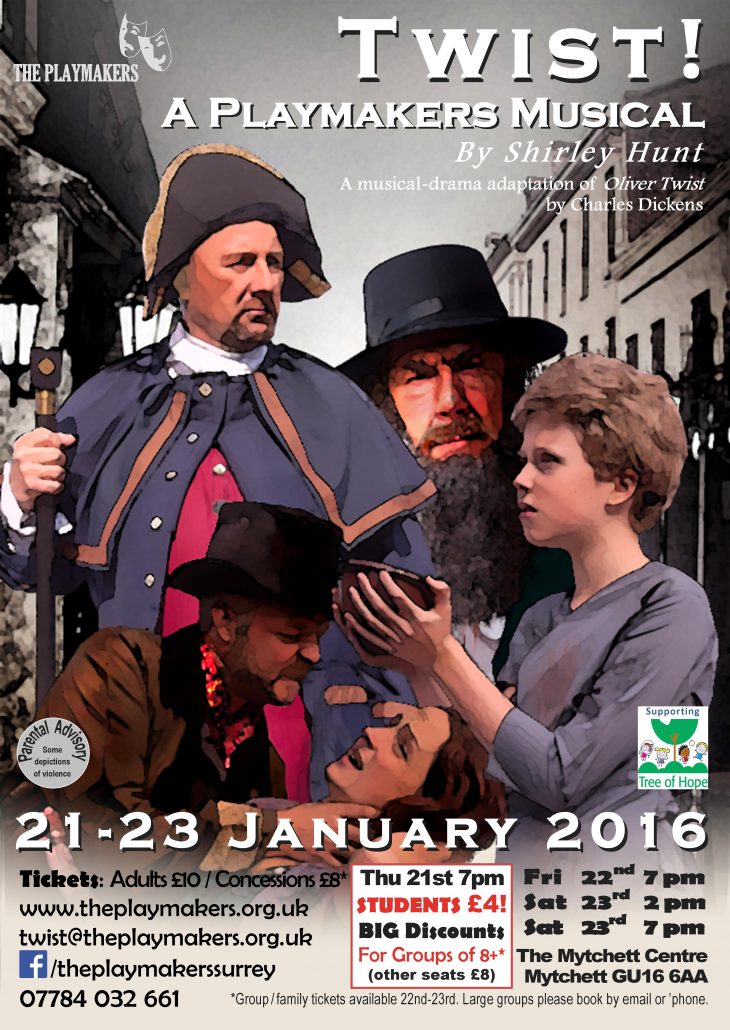 Synopsis
TWIST followed the traditional story of young Oliver Twist: from his lowly orphanage at the workhouse, into the house of Fagin and a life of crime, to the eventual discovery of his true lineage. A relatively dark adaptation, TWIST was packed with both moving and uplifting songs and scenes of poignancy and dramatised violence. With an unusual 'twist' for good measure.
Cast
Bill Sykes – Tony Bowman
Nancy – Emma De Giovanni
Fagin – Scobie
Mr Bumble – Paul Foster
Mrs Corney – Anita Weare
Mr Brownlow – Mike Williams
Mr Grimwig – Stephen Turner
Mrs Bedwin – Kay Sammes
Monks/Edward – Nick Daborn
Rose – Anna Kelly
Mr Sowerberry – Derek King
Mrs Sowerberry – Sian Holland
Charlotte – Emma Louise Young
Noah Claypole – Keziah Bryceland
Old Sally – Rene Glasscock
Judge – Derek King
Clerk Of The Court – Martin Gohrey
Crackit – Colin Raggett
Medic – Martin Gohrey
Barman – Jon Tebb
Bet – Sian Holland
Maisie – Jo Roome
Agnes – Anna Kelly
Cook – Dave Killick
Policeman 2 – Colin Raggett
Drunk Obidiah – Jon Tebb
Harry – Hugh Platt
Mr Giles – Dave Killick
Mr Brittles – Keziah Bryceland
Jailer – Tom Bevell
Pot Wench – Emma Louise Young
Dead Body – Lee Cudmore-Ray
Policeman 1 – Tom Bevell
Book Shop Owner – Hugh Platt
Passer-By – Colin As Policeman 2
Crew and Credits
Directors – Shirley Hunt, Scobie
Musical Director – Shirley Hunt
Producer – Lee Cudmore-Ray
Stage Manager – Dave Craven
Set Design & Build – Jon Tebb
Set Artists – Helena Higgett, Jon Tebb
Wardrobe – Shirley Hunt, Allaine Walsh, Helen Wall
Make-up and Wigs – Valerie Smythe, Saundra Evans, Janet Bartrop, Elle Peacock, Gabby Wassan
Props – Tony Bowman, Lynn Price, Gillian Luck, Allaine Walsh
Choreography – Annabel Brash, Louise Ellis, Emma Louise Young, Becky Howells
Prompt – Claire Fryer
Runner – Lynn Price
Front of House – Dawn Rowlands, Lauren Rowlands, India Dear
Publicity – Tony Bowman
Box Office – Fiona Wassan
Stage Crew – Annabel Brash, Lee Cudmore-Ray, Helena Higget, Jon Tebb, Chris Wassan
Poster Design, Programme, Photography – Tony Bowman