Title:
The Three Little Pigs
Dates:
22 – 24 January 2015
Written By:
Susan Freke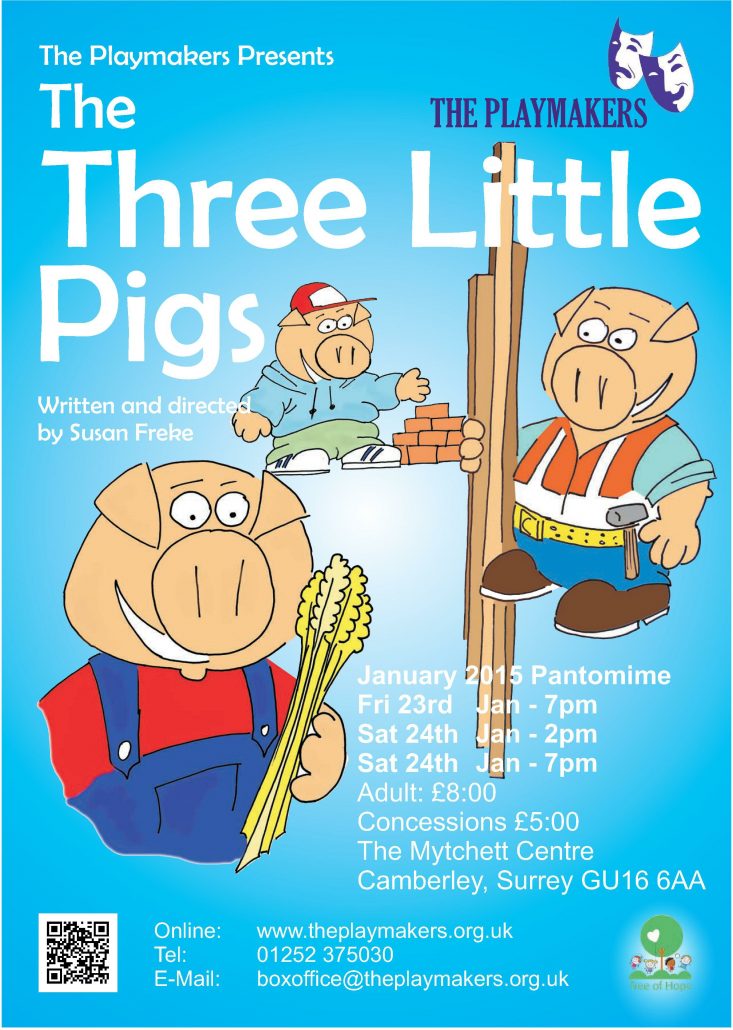 Synopsis
We all know the story of the Three Little Pigs, but do we know all of it? Do we know that their mother was a nightmare? She employed a lactose intolerant milkmaid and housed a dodgy lodger.
The wolf is of course well known, but what do we know about his motivation and obsession to blow down houses containing pigs? Who really is the baddie and will good triumph over evil?
Come and meet the three pigs. There is Chop, proud and bold, Kevin (you work out why I named him Kevin) and Sausage – rather a silly fat little sausage. We will sing and dance our way through this timeless classic and leave you wanting more. Or maybe you will just leave and go for a cup of tea and a bacon sandwich.
Cast
Dame Trotter – Chris Wassan
Dodgy Lodger Roger – Vicky Langdown
Hairy Mary from the Dairy – Pauline Gotel
Chop – Becky Howells
Kevin – Debb French
Sausage – Susan Freke
Lettice – Shirley Hunt
Bunny – Dawn Rowlands
Kosher Wolf – Nick Daborn
Wolf-Irene – Sian Ramsden
Huff – Claire Fryer
Puff – Sara Ward
Farmer Piles – Juliet Davis
Emmeroid – Emma DeGiovanni
Bob The Builder – Paul Foster
Chorus
Anita Weare
Jo Roome
Paul Foster
Emma Louise Young
and older children
Young Playmakers
Gaby Wassan
Ellen Davis
Megan Bench
Ellen Davis
Emily Roome
Isabelle Peacock
Berry Weare
Erin Howells
Evie DeGiovanni
Erin Howells
Mia DeGiovanni
Catherine Peacock