Title:
The Elves and the Shoemaker
Dates:
23 – 25 January 2014
Written By:
Susan Freke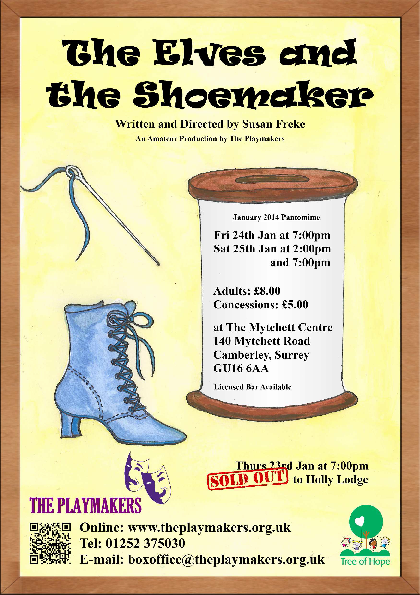 Synopsis
A relatively unknown fairytale that I suspect J.K Rowling pinched some ideas from. The story is about Michael Shoemaker, poor but talented cobbler. His life is hell as he lives with a nagging wife, two teenage children who think money grows on trees plus his mother poor chap! But kindly Elves called Flip and Flop help him in an unexpected way. We have a strong 'shoe' theme throughout and expect our audience to don their best pair of shoes for inspection.
Performed in January 2014
It has the full pantomime swing! The panto gags! The song-and-dance routines! The goodies, the baddies and the ahhhhhh's. But, best of all it's nice and short and you will be back for more!
Cast
Michael – Phil Millington-Hore
Atish – Cara Millington-Hore
Mother Ugg – Tony Bowman
Flip – Vickie Langdown (nee Marsh)
Flop – Becky Howells
Pumps – Daniel Freke
Vans – Ellen Davis
Crocs – Shirley Hunt
Doc Martin – Emma DeGiovanni
PaRada – Chris Wassan
Converse – Mike Williams
Stiletto – Jon Tebb
Maud – Sian Ramsden
Bingo Caller -Paul Foster
Spike – Sara Ward
Miranda – Emily Roome
Chorus
Emma Louise Young
Claire Fryer
Cheryl Beach
Debb French
Jo Roome
Jules Davis
Gaby Wassan
Young Playmakers
Mia DeGiovanni
Catherine Peacock
Berry Weare
Lily Rowlands
Lily Wall
Isabelle Peacock Boothroyd
Evie DeGiovanni
Emily King
Erin Howells
Freya Graham
Choreography
Vicky Marsh – Don't Feel Like Dancing, Goody Two Shoes, Me and My Shadow
Cara Hanson Millington-Hore – Footloose, Hey Big Spender, Hubby of Mine
Olive Woolf – I Want to Break Free, Two Little Boys
Susan Freke – Carry You (finale), Yesterday, Go now, Tomorrow
Annabel Brash – Lead in My Pencil
Crew
Director/Writer – Susan Freke
Producer – Sian Ramsden
Book Keeper – Jez Curtis
Musical Director – Shirley Hunt
Stage Manager – Dave Craven
Box Office Manager – Annabel Brash
Front Of House Manager – Helena Higget
Back Stage – Lee Cudmore-Ray, Colin Brooks, Victor Ludkin
Set design and Build – Lee Cudmore-Ray
Runner – Pauline Gotel
Prompt – Nadia Maggiorre
Costumes – Shirley Hunt (adults), Helen Wall (children)
Wigs – Valerie Smythe
Make-up – Saundra Evans and others (adults), Elle Peacock (children)
Voice Coach to children – Elle Peacock
Publicity – Sian Ramsden
Sound and Light – Starburst