Title:
Treasure Island The Panto
Dates:
January 2013
Written By:
Richard Lloyd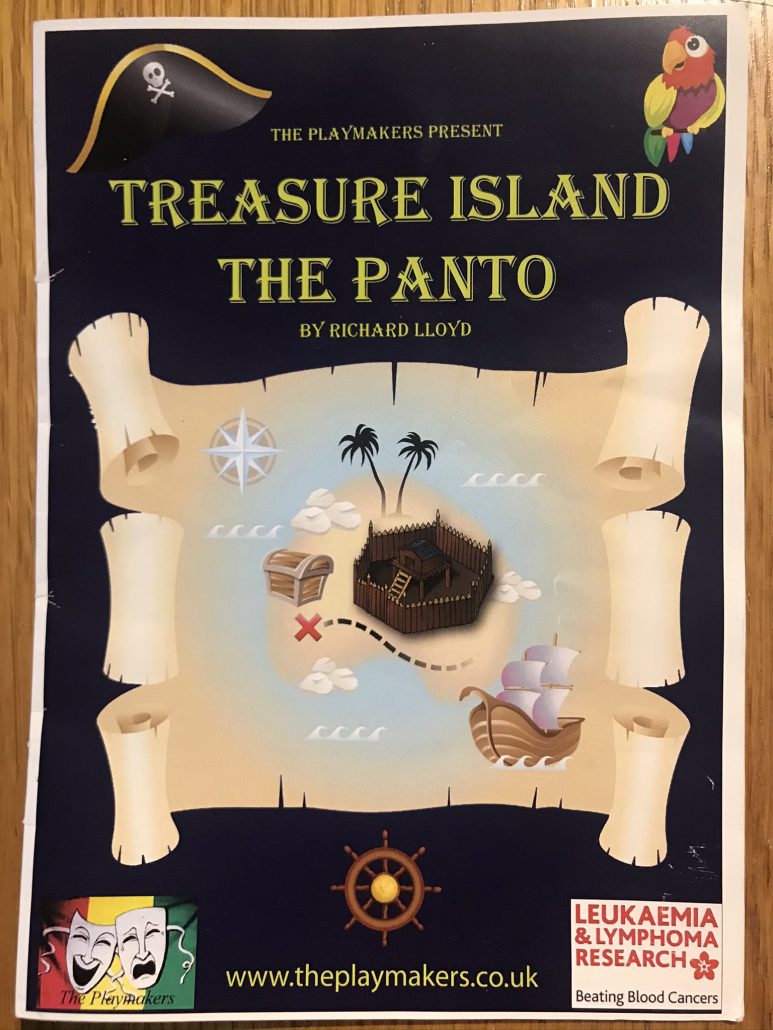 Synopsis
In January 2013, The Playmakers performed Treasure Island – The Panto written by Richard Lloyd and directed by Geoff Yost. 
If you have read the books or watched the films, you will now that Jim (our hero) obtains a treasure map, is befriended by Long john (the villain) and sailed with him to the island where envy and greed take over and conflict ensues. Needless to say, our hero vanquishes the villain, finds the treasure, gets the girl and sailed off into the sunset.
Watch our panto carefully and you may find some similarities.
Cast
Slither – Tony Bowman
The Dame – Jez Curtis
Jim Ladd – Becky Howells
Nancy – Vickie Marsh
Billy Fishbones – Mike Williams
Captain Smellit – Stephen Turner
Squire Polperro – Sian Ramsden
Bodmin – Claire Fryer
Newquay – Emma Degiovanni
israel Feet – Chris Wassan
Blind Puke – Stuart Hurrel
George Merry – Kerry-Anne Jewel
Pink Dog – Annabel Brash
Groundbait – Ellie Califano
Isiaih – Emma Young
Captain Haddock – Mike Williams
Don Iguana – Jon Tebb
Donna Estella – Nadia Maggiore
Bertha Gunn – Susan Freke
Chorus
Shirley Hunt
Holly Freke
Holly Popkin
Young Playmakers
Marina Voutchkova
Gaby Wassan
Ellen Davis
Eleanor Tanner
Lily Rowlands
Emily King
Isabelle Peacock-Boothroyd
Catherine Peacock
Crew
Set Design And Build: Lee Cudmore-Ray, Colin Brooks
Back Stage Crew: Dave Craven (Manager), Lee Cudmore-Ray, Gordon Young, Colin Brooks, Derek King, Phil Millington-Hore
Set Artists: Helena Higgit, Rhianna Stafford, Tammy Ray. Colin Brooks
Props: Rene Glasscock, Jessica Griffiths.
Choreography: Annabel Brash, Vickie Marsh.
Make Up: Valerie Smythe, Saundra Evans.
Music Arrangement: Jez Curtis, Shirley Hunt.
Costumes: Shirley Hunt, Rene Glasscock.
Front Of House Team: Helena Higgit (Manager), Cara Millington-Hore, Several Parents Of Young Playmakers.
Sound And Light: Starburst.
Filming: Jem Vostock.
DVD Titles: Gordon Young.
Runner: Pauline Gotel.
Runner Assistant: Louise Crawford.
Prompt: Scobie.
Box Office: Ron Hurrell