Title:
Just Desserts
Our House
Dates:
Summer 2012
Written By:
Susan Freke and Fiona Wassan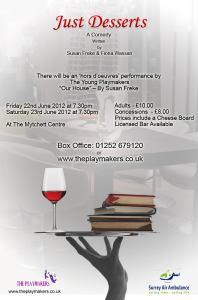 Synopsis – Just Desserts
Just Desserts was the adult play, It tells the tale of a dinner party with a twist.
Cast
Gran – Rene Glasscock
Sarah – Cheryl Beach
Tanya – Shirley Hunt
Milly – Holly Freke
Pj – Marina Voutchkova
Molly – Ellie Secombe
Portia – Catherine Peacock
Maddie – Emily King
Petra – Anna Penkova
Mandy – Hannah Young
Marie – Gaby Wassan
Polly – Emma Young
Synopsis – Our House Young Playmakers
Written by Annabel Bash
The Young Playmakers supported the above play with "Our House", which was written by The Playmakers member Susan Freke. The play was about 2 families whose mothers take them to see gran. There is a lot of family rivalries as members of each each family tries to impress the gran.